Yesterday I sat on the sofa with an entire week's worth of Coronation Street on replay and a set of new rubber stamps and some sharpie pens, my mind set on creating enough letter writing paper and envelopes to create twelve sets. As an expat, I write a LOT of letters! These past few weeks I have been spending a total of seven hours per day on various buses and this seems like the ideal time to sit down and write a long letter to a beloved friend, however I never have my nice stationary and they always get written on whatever scraps of paper I have in my bag! Now I can pop a couple of these in my bag, ready to write on!
They were so simple to make and the monotony of drawing little shapes and of stamping was so soothing and meditative, although it was time consuming. Time well spent though, I think! I won the stamps in a blog giveaway at
Memi the Rainbow

,
they are handmade and so adorable! They are also available in her etsy shop, I really do want to buy some more!
I used an orange felt tip on the stamps and then grabbed my multi coloured sharpies to draw hearts and stars all over the envelopes. I used sharpies to draw on the paper, they had the added bonus of going through the paper so the reverse side was just the same as the front and a faint trace could be seen on the second piece of paper that also looked attractive. I just love sharpies!
Anyway, they are a little bit too summery for this time of year, but I just wanted to use my new stamps, I must head out to look for some fall stamps and maybe some fall coloured sharpies? How thrifty is this too? It works out way cheaper than buying proper letter stationary! I just used plain white printer paper and twelve envelopes I got for $1 from the dollar tree!
So there you have it - my first Simple Things Sunday post, link up with the fab blog

'Simple as That'

.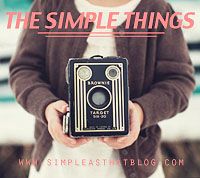 For more cute letter writing ideas, check out my pin board 'One of these days, I'm gonna sit down and write a long letter' by clicking on the link below!